Beschrijving
Zwarte thee is de meest populaire thee ter wereld. Het is de thee die het meest wordt gebruikt bij het maken van ijsthee en Engelse thee. Tijdens het gefermenteerde proces vormde zwarte thee meer actieve ingrediënten en theaflavines. Ze bevatten grote hoeveelheden vitamine C, samen met calcium, kalium, magnesium, ijzer, zink, natrium, koper, mangaan en fluoride. Ze hebben ook meer antioxidanten dan groene thee en zijn antiviraal, antispasmodisch en antiallergisch.
Naast al deze gezondheidsvoordelen zijn zwarte theeën ook minder samentrekkend en hebben ze een mildere smaak dan groene of zwarte thee. Perfect om de hele dag door te drinken, en ook geschikt voor alle leeftijden.
Hoofdfunctie
Het heeft een ontstekingsremmend effect;
Het kan zware metalen en alkaloïden en neerslagafbraak opnemen;
Voor vasculair systeem en hartstimulanten om bloedomloop te versnellen, metabolisme bevorderen;
Zwarte thee-extract om de hersenschors, het exciterende zenuwcentrum, te stimuleren om het effect van vermoeidheid te elimineren;
Met anti-cariës, maagvertering, anti-aging, bloedsuiker, bloeddruk, bloedvet, anti-kanker, anti-straling effect;
Verhoogde renale bloedstroom, remming van tubulaire reabsorptie van water leidde tot verhoogde urineproductie is gunstig voor het ontdoen van het lichaam van melkzuur, gemak van oedeem veroorzaakt door hartaandoeningen of nefritis.
Toepassing
Als cosmetica en additieven op de fijne chemicaliën: de rol en hebben een sterke remmende activiteit van antibacteriële;
Als een natuurlijke antioxidant voedsel, is op grote schaal gebruikt synthetische antioxidanten BHA, BHT, TBHQ, PG en VE, VC en ga zo maar door.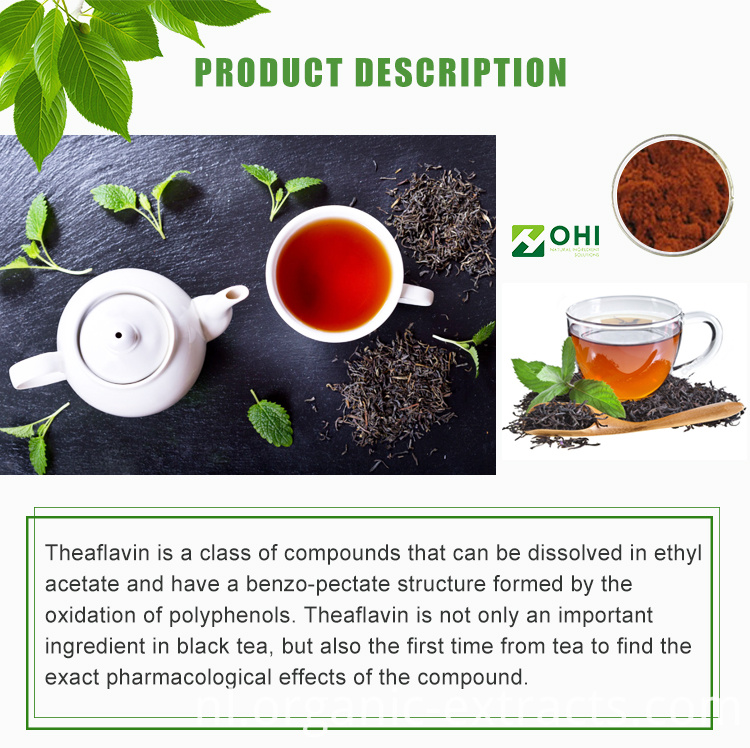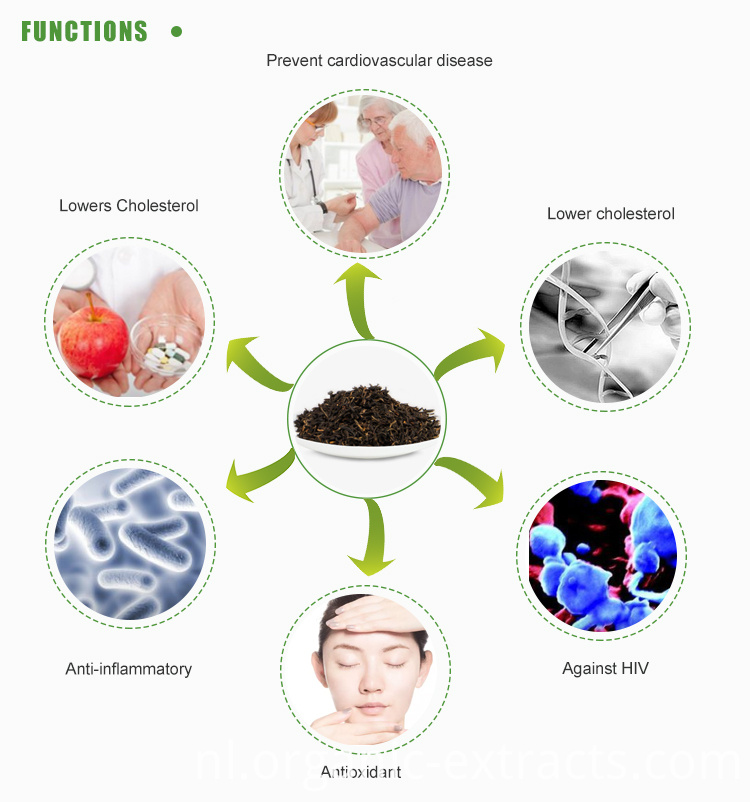 Product Categorie : Standaard plantenextracten